Fine motor skills are the coordination of small muscles in a person's hands, fingers and forearms. These skills include things like picking up a marker off of the floor, holding a pencil to write, and zipping up a backpack (just to name a few).
Fine motor skills help kids perform crucial tasks in the classroom and at home… okay, all day long, and in every single environment they enter throughout the day.
They help our students become more successful and more independent. Fine motor skills are very important!
And I honestly probably should have gone to school to be an Occupational Therapist because I love working on fine motor tasks with my students. Cutting, pasting, building… you name it, we do it in our Life Skills classroom.
That's when I had the idea to turn an empty, dormant storage corner of our classroom into a Fine Motor Skill haven for my students.
This is the corner of storage in my classroom. Last year I had 7 students, and so far I have 2 this school year… so I have quite a few desks and chairs left over that have to stay in my classroom.
My original idea was to use the desk stacks as "walls", drape a sheet over them and create a sort of reading nook. Well… the first 3 weeks of school went as fast as they came, and I wasn't exactly sold on the safety of it. Until last Friday when we had our first Fine Motor Friday.
Now we have been doing Fun Food Friday the past 2 years (see a video about it here), and we will continue to do that this school year. But why not make Friday even more epic with an afternoon of Fine Motor Fun?!
So against my better judgement of putting up a bulletin board only once this school year, I decided to put up one large bulletin board to cover up the old Velcro tape marks on the wall. Plus, the large bulletin board makes the whole area look like an actual center area, not just an awkward corner of furniture.
SUPPLIES YOU MAY NEED FOR FINE MOTOR FRIDAY:
Then I got to work on some bins. I bought these bins are Target over summer, but you can use any type of bin you want. I just like to keep everything color-coded.
As with the rest of my well organized classroom (hey, it's the beginning of the year! It won't be like this for long!), the PlayDoh and dough supplies were all ready to go.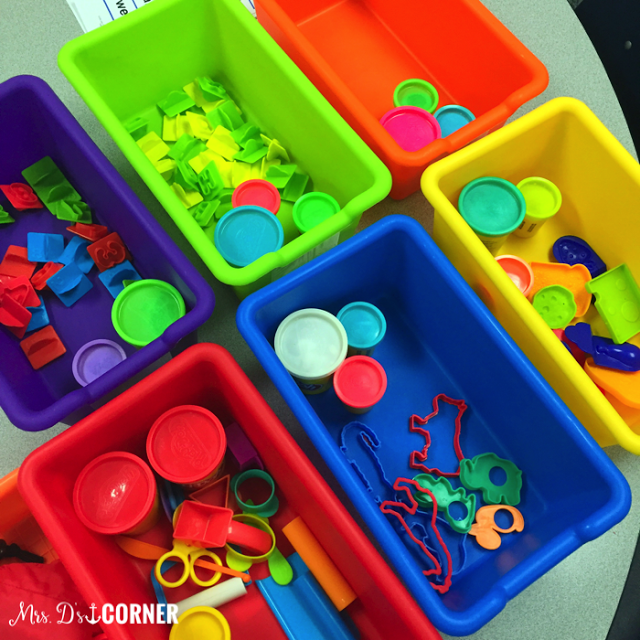 So I split up the PlayDoh and sorted all of the dough supplies into categories.
Then I found a bunch of dough tools, including plastic cookie cutters, that the previous teacher left. Jackpot!
So I made 6 activity-specific dough bins for students to choose from. Each bin has 2 different colors of dough inside of the bin, plus lots of other fun stuff to use with the dough.
On the front of each bin, next to the pockets, I put cute little dough splats on the front to match the color of dough inside of the bin. This will help students in putting the supplies away.
But dough isn't the only fine motor activity we will be working on on Fridays. If you look inside of the desks, you'll see a couple of labeled bins. Those bins contain even more fine motor fun.
PS. The big blank space on my bulletin board will be filled in throughout the school year with pictures of the students participating in Fine Motor Friday. 🙂
Perlor beads are an amazing fine motor task for our friends. The beads are small and to fill in the whole grid, the students have to be very careful. It's a fine motor task that is fun for students, without them even realizing they're doing work.
I think I love Legos just as much as I love PlayDoh. In our Motor Lab bins, we have the duplos and megablocks ready for daily "play." So I decided to use the smaller Legos in our Fine Motor Friday bins to really practice on our skills.
I made 2 separate bins of Legos for students, and tried my best to separate the pieces evenly. Sharing is an ongoing skill, and is an important skill we work on daily, but it was not necessarily the major skill we are working on during Fine Motor Friday… so 2 bins of Legos.
You can read more about this test tube fine motor activity in this blog post here.
NOT PICTURED
In our Fine Motor Corner, you'll also find 4 bins of kinetic sand and 2 bins full of cut up straws with string. Students can build sand structures and form the kinetic sand, and they get to string up the straw "beads" on to string in the other bins.

How do you practice and build fine motor skills in your classroom?
YOU MAY ALSO LIKE: